Little Blue NRD Receives 2019 Conservation Partner of the Year Award
May 5, 2019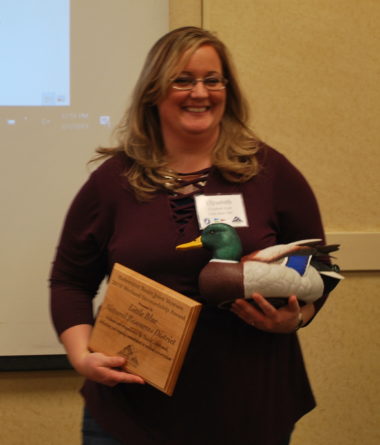 Little Blue Natural Resources District received the 2019 Conservation Partner of the Year Award from the Rainwater Basin Joint Venture at its February 2019 Informational Seminar in Grand Island, NE.
Little Blue Natural Resources District (LBNRD) has been a cornerstone partner for the Rainwater Basin Joint Venture since 1991, according to Joint Venture Coordinator, Andy Bishop. At that time, the General Manager, Mike Onnen, helped author the initial Concept Plan and the subsequent Implementation Plan, which was adopted in 1992.
LBNRD held the first wetland conservation easement in the Rainwater Basin and was the first Natural Resource District to agree to hold a portable tub/chute/alley for shared use by area producers. This system allows the safe and efficient moving of livestock into wetlands for grazing.
Additionally, LBNRD sponsored several grants that benefited landowners and producers while protecting wetlands. One of these offered landowners the opportunity to retain water rights and receive funding in the form of cost-share to outfit pivots with low compression tires to ensure effective and low-impact travel through restored wetlands.
Other award recipients at the 2019 RWBJV Informational Seminar were Dale Seidel (Landowner Stewardship Award) and Shanda Spurgeon (Conservation Professional of the Year Award).