Shanda Spurgeon Receives 2019 Conservation Professional of the Year Award
May 5, 2019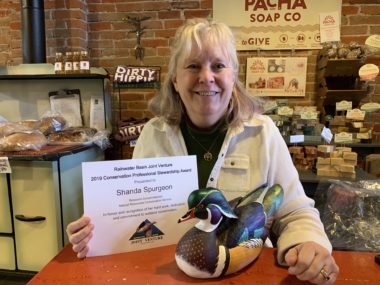 Shanda Spurgeon received the 2019 Conservation Professional of the Year Award from the Rainwater Basin Joint Venture at its February 2019 Informational Seminar in Grand Island, NE.
Spurgeon worked as a Resource Conservationist in Adams and Phelps County, tirelessly promoting the Wetland Reserve and Agriculture Conservation Easement Programs to private landowners. Those who chose to participate received Spurgeon's ongoing assistance with incorporating grazing, haying, and other management treatments on their lands to benefit both wetlands and agricultural production.
Spurgeon was an active participant in workgroups for the Rainwater Basin Joint Venture (RWBJV) for many years. Its coordinator, Andy Bishop, praised her, noting, "Spurgeon was a long-standing member of both the Private Lands and Informational Seminar Planning Workgroups." As part of the former, Spurgeon provided expertise on the Natural Resources Conservation Service's easement and wetland programs. "Spurgeon moves on to a new position as an Area Conservationist in Hayes, Kansas," commented Bishop, "and, although we will miss her vast store of knowledge and her leadership, we wish her the best of luck."
Other award recipients at the 2019 RWBJV Informational Seminar were Dale Seidel (Landowner Stewardship Award) and Little Blue Natural Resources District (Conservation Partner Stewardship Award).