Significant Strides made by Rainwater Basin Joint Venture Partners to Implement the Working Lands Initiative
August 9, 2019
Background
The Working Lands Initiative (WLI) was embraced by the Rainwater Basin Joint Venture (RWBJV) in 2010. Its goal is to increase the value of the remaining Rainwater Basin wetlands by stepping up grazing on them. If done correctly, grazing on wetlands can be an economically viable component of a producer's operation and provide optimal habitat conditions for waterfowl, shorebirds, and whooping cranes by preventing undesired vegetative communities. The WLI was implemented on the ground starting in 2015 and demonstrates a win-win solution for conservation and agriculture.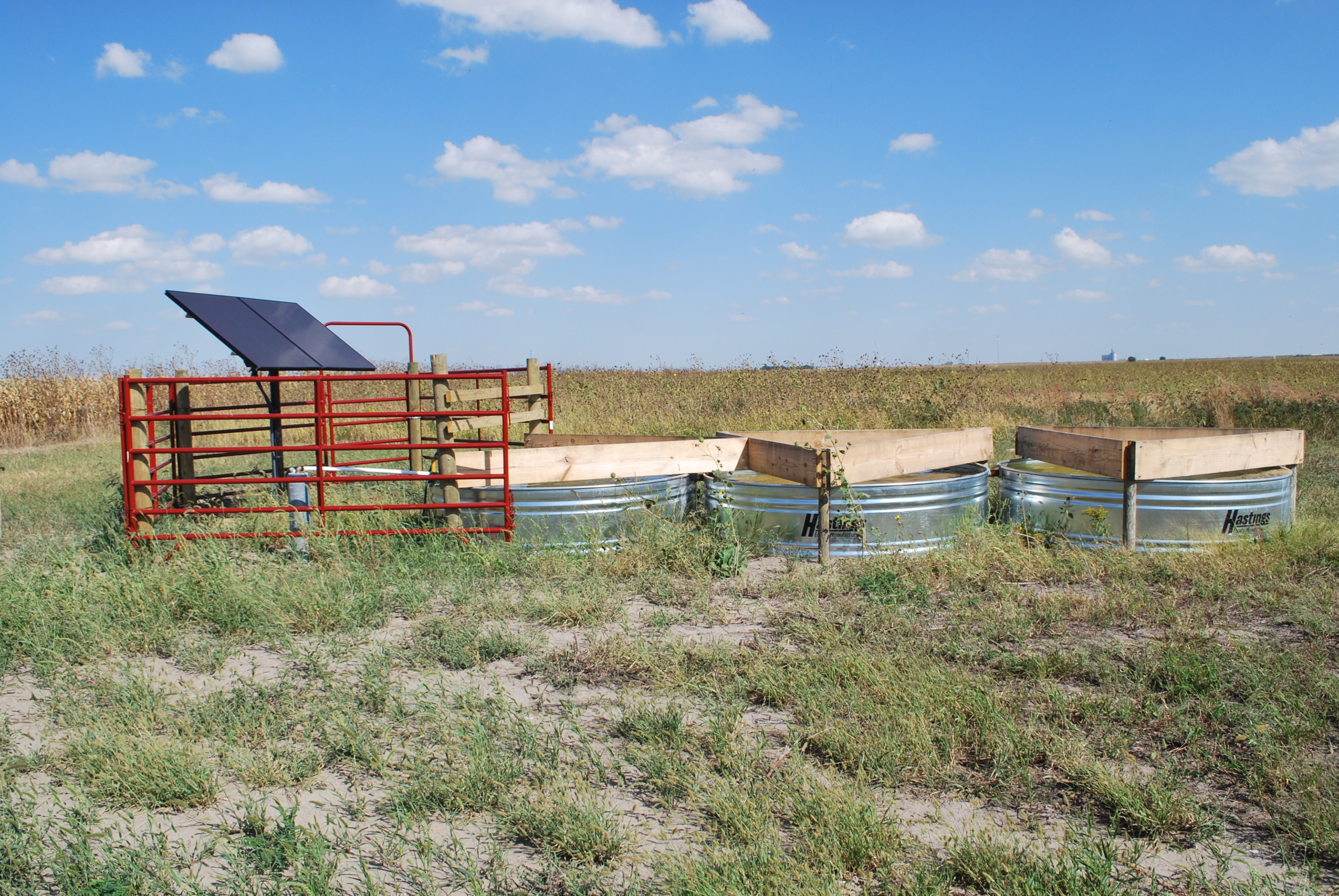 Since 2015, the RWBJV partners have worked with private landowners to develop grazing infrastructure on 22 different tracts, ranging in size from 40 to 254 acres and totaling 2,155 acres. The partners leveraged over $580,000 for these projects that affected 1,640 wetland acres and 515 acres of associated upland buffer. Most of these projects included both perimeter fence (over 71,000 ft.) and livestock watering systems – twenty in total – including wells, stock tanks, and tank guards. The private landowners were highly engaged, helping with design and providing significant financial contributions to the projects. In total, landowners provided over 25% of the matching funds (both cash and in-kind) for project development.
Scientific Research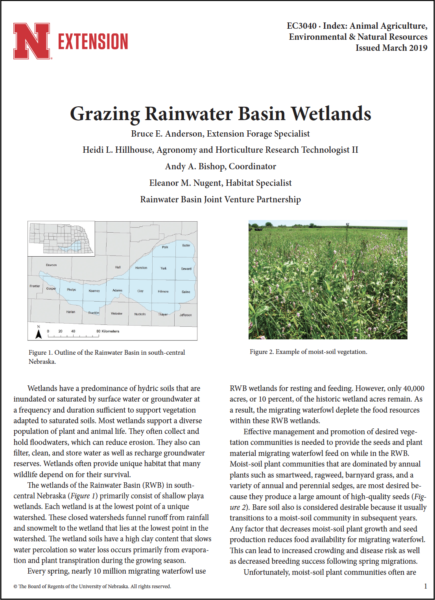 To better understand forage production and help producers better utilize wetland grazing sites, the partnership collaborated with University of Nebraska – Lincoln to conduct a three-year forage production study and publish the results. This study evaluated total production and nutritive quality of forage in the four major vegetation communities found in Rainwater Basin wetlands (bulrush, cattail, moist soil, and reed canary grass). Forage assessments were completed for each vegetation community with four clipping periods that corresponded to different grazing opportunities. Clippings were taken during the first week of April, the second week of May and of June, and in September.
These clipping dates corresponded to different grazing scenarios that were implemented. April's coincided with cattle coming off stalks and going into the wetlands as a staging area before going to summer pasture; the May date corresponded to the time when producers usually turn cattle in for season long grazing; the June date corresponded to the time that public land managers turn cattle into state and federal management areas; and the September time frame is when producers put cattle into wetlands from summer pasture until they can move the herd back to stalks.
Repeated clippings were conducted as the growing season progressed if the site had been harvested earlier in that subsequent growing season. This provided insight into the amount and nutritive value of regrowth.
Research Results
The results showed that these vegetation communities could provide between 4,000 – 9,000 pounds/acre and had crude protein levels above 10%, with regrowth providing upwards of 20% crude protein. This information has significantly changed the way grazing plans are being developed. New grazing plans have higher stocking rates and grazing duration to increase utilization, manage against undesired species like bulrush, cattail, and reed canary grass, and manage to promote and maintain moist soil vegetation communities. This is because previous grazing plans were written based on forage production of hard grass pasture that averages 2,000 pounds/acre.
Tools for Producers
To help integrate this information into grazing plans Nebraska Natural Resources Conservation Service State Range Specialist developed a grazing calculator using Microsoft® Excel that provides guidance on stocking rates and grazing duration based on herd size and animal weight to achieve desired forage utilization. It will be available on the Rainwater Basin Joint Venture website in the near future.

In addition to the grazing calculator, producers now have two additional portable tube/chute/alley corral systems available to borrow to use to move cattle between grazing management units. Success of the Rainwater Basin Working Lands Initiative has brought state and national recognition and resulted in two additional grants to support the initiative. These grants were awarded to the Rainwater Basin Joint Venture partnership from the Nebraska Environmental Trust and the National Fish and Wildlife Foundation. As part of these grants, the corral systems were purchased. Based on producer input, Rawhide corral systems® were purchased. These units will be available from Tri-Basin and Upper Big Blue Natural Resources Districts and will complement the existing unit that is available through Little Blue Natural Resources District.
Along with funding the corral systems, the grants, combined with partner matching funds, will provide 85% cost-share to landowners to establish grazing infrastructure to facilitate grazing on an additional 1,500 acres of Rainwater Basin Wetlands. The Working Lands Initiative continues to help landowners improve wetlands through managed grazing supported by science.