New CRP SAFE Sign-up
February 2, 2022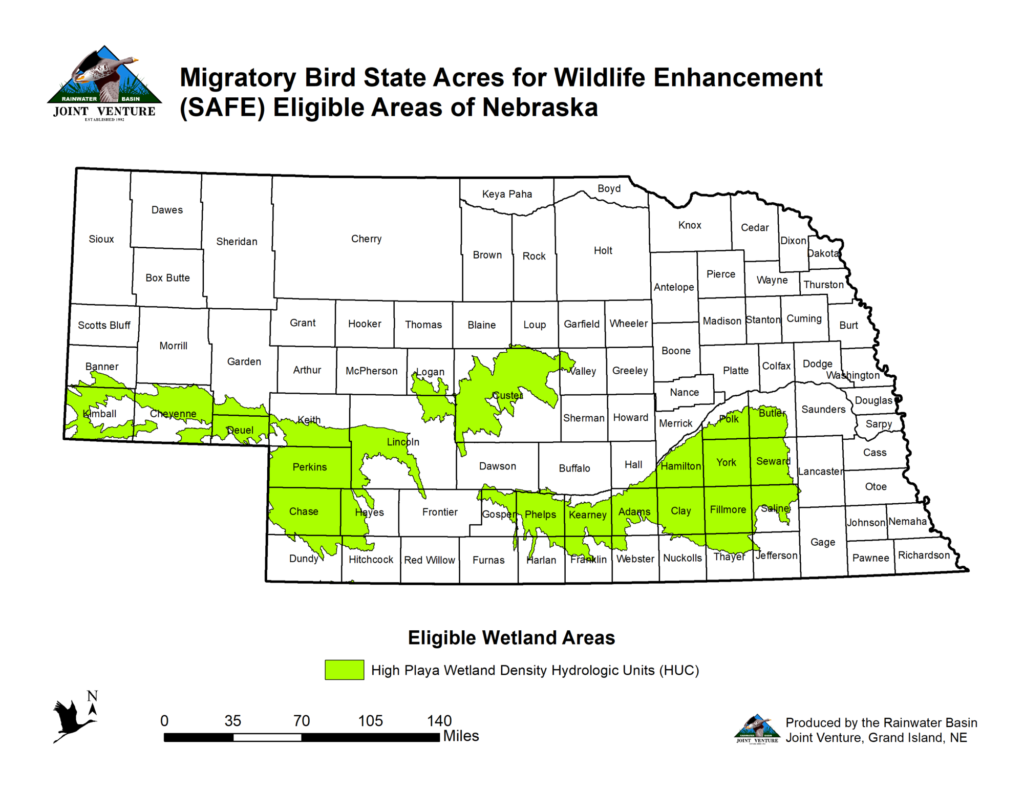 Sign-up for the Migratory Birds, Butterflies and Pollinators Conservation Reserve Program (CRP) State Acres for Wildlife (SAFE) is now open!  CRP SAFE is a voluntary program that provides private landowners a market-based financial incentive for restoring playa wetlands.  The restored playa wetlands will improve water quality, recharge the Ogallala Aquifer and provide habitat for migrating waterfowl, cranes, and shorebirds.
There are three playa areas in Nebraska covering 42 counties: Central Table Playas, Southwest Playas, and the Rainwater Basin.  Through this program, landowners can establish permanent, resource-conserving plant species, such as approved grasses or trees to control soil erosion, improve water quality and develop wildlife habitat. In return, the Farm Service Agency (FSA) provides them with rental payments and cost-share assistance.
This project uses a competitive bid process allowing landowners to submit offers to enroll their playa acres for an amount they are willing to accept as an annual payment.  Offers are required to be between the average NASS irrigated rental rates and dryland rates. Contract offers can be submitted through FSA at any time, and those offers will be ranked at intervals in a competitive bid process.  For more information on CRP SAFE visit: https://bit.ly/CRP_SAFE.  The deadline to enroll in CRP SAFE is February 18, 2022.
Multiple outreach efforts are currently ongoing for CRP SAFE.  A landing page was developed at the link above to help answer landowner questions and provide them with the resources they need to enroll in the program.  7,000 landowner letters and 7,000 postcards were sent out to landowners that were identified as having acres that qualified for the program.  Social media and radio ads are also being used to reach a wider audience across the state.  Outreach efforts for CRP SAFE were made possible through partnerships with FSA, Pheasants Forever, Natural Resources Conservation Service (NRCS), Nebraska Environmental Trust (NET), and many more.