Smartweed Marsh WMA Fencing Project
September 15, 2020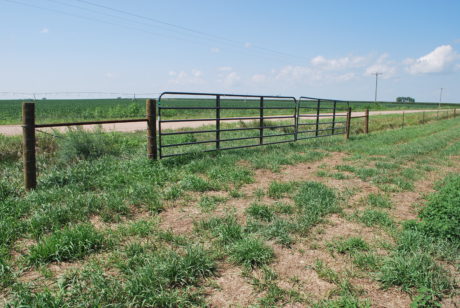 The Nebraska Game and Parks Commission (NGPC) purchased the Smartweed Marsh West Wildlife Management Area (WMA) in Nuckolls County in 1990. Smartweed Marsh WMA contains approximately 38 acres of wetland and 2 acres of upland habitat. Several management projects have taken place on the property including sediment removal, clearing trees and shrubs, and improving water hydrology.
An important wetland vegetation management technique used by the Rainwater Basin Joint Venture is grazing with cattle. Unfortunately, the WMA does not have a perimeter fence, so grazing was not possible post-restoration (2010), and the wetland was quickly overrun with river bulrush and reed canary grass.
In January 2020, the Rainwater Basin Joint Venture, Nebraska Game and Parks Commission, and the Nebraska Environmental Trust (NET) partnered together to provide funding assistance to install a permanent boundary fence to facilitate annual grazing on the wetland.
The fencing project on Smartweed Marsh WMA was completed in June 2020. The new fence is built to Natural Resource Conservation Service (NRCS) specifications for a wildlife friendly fence. The top and bottom wires are smooth to allow wildlife to pass over and under with a lesser chance of getting tangled in the fence. NGPC plans to begin grazing on Smartweed Marsh WMA in the spring of 2021 to help control the vegetation and create more open water habitat for migrating waterfowl.