Updates To The Private Land Programs Manual
January 21, 2021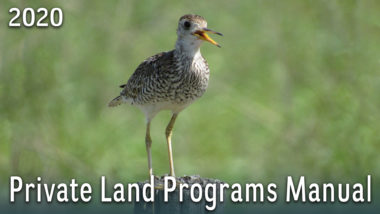 The Rainwater Basin Joint Venture (RWBJV) recently updated the Private Land Programs Manual to help highlight the conservation programs that are available to landowners.
The main goal of the update was to design a document that could be a go-to source for landowners to find which programs work best for their conservation goals. To accomplish this, the conservation programs were presented in three categories: protection, restoration, and enhancement. This helped to focus the individual programs and group them based on their conservation goals.
A "conservation programs organizer" graphic was also identified as a potential addition to the document to help landowners better understand the specifics of each program. The updated Private Land Programs Manual now includes three "organizer" graphics that correlate specific aspects of each program with the protection, restoration, and enhancement goals mentioned earlier. These organizers focus on several program specifics like contract length, minimum acreage, and the ability to still graze the land to allow landowners to focus on specific conservation efforts to help identify the next steps of their management goals.
New details, program requirements, and maps of the Rainwater Basin Region and Nebraska's wetland complexes were also added. These maps will help landowners determine their eligibility based on specific program location requirements. The final update of adding pictures to the document makes it more visually appealing to the user and allows the Private Land Programs Manual to not only talk about the conservation programs but also show what can be accomplished when these programs are implemented.
The Private Land Programs Manual is in the process of being printed and will be available for organizations to hand out to interested landowners as well as being available on the RWBJV website at www.RWBJV.org.
Updating the Private Land Programs Manual was a collaborative effort between RWBJV conservation partners that included the Ducks Unlimited, Little Blue Natural Resources District (NRD),
Natural Resources Conservation Service, Nebraska Game and Parks Commission, Pheasants Forever, Tri Basin NRD, Upper Big Blue NRD, and U.S. Fish and Wildlife Service. The updated Private Land Programs Manual will allow these conservation partners to provide interested landowners with a resource to identify the conservation programs that will work best for them.