Nebraska Wetland Partnership Award – 2022
April 6, 2022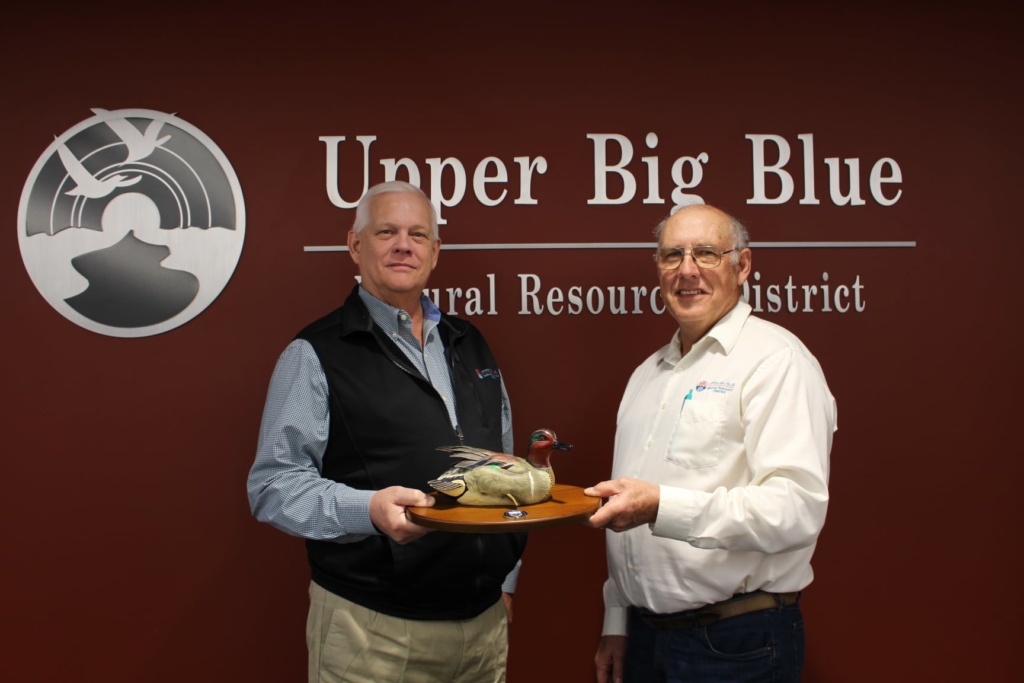 Partnerships play a key role in the management and conservation of wetlands within the Rainwater Basin (RWB).  The numerous partnerships held by the different conservation organizations across the state help to better manage resources, time, money, and habitat.
Nebraska Ducks Unlimited (DU) recently presented the 2022 Nebraska Wetland Partnership Award to David Eigenberg.  Ducks Unlimited presents this award to an individual from another partner organization who has helped DU achieve its wetland conservation goals across Nebraska.
David Eigenberg is the General Manager of the Upper Big Blue Natural Resources District (UBBNRD) and serves on the Rainwater Basin Joint Venture management board.  He received the award for the efforts he and his Board of Directors have made to protect wetland areas within their district.  One of those wetlands is Teal View Wetland Education Area. The 39-acre tract of farmland was restored to its natural state of wetland in 2020-2021 by Ducks Unlimited with help from NRCS, Nebraska Environmental Trust, and the Rainwater Basin Joint Venture. The property was then given to the Upper Big Blue Natural Resources District to manage through a conservation easement in 2021.  Additionally, the UBBNRD also worked to protect two ephemeral wetlands adjacent to the Real Waterfowl Production Area in Fillmore County.
Partnerships, like the one with the UBBNRD and Dave Eigenberg, are vital to wetland conservation across the state.  Without partnerships like these, we wouldn't be able to positively impact wetland conservation like we do.